Greenwood Lake's "Champagne Lady"
or 'The New Jersey Connie'

Generally speaking, Lockheed's design for the Constellation was finished in 1939. Howard Hughes immediately ordered the first 40 "Connies" for TWA, expecting a two-year-plus exclusive before another carrier could get their own. But World War Two caused initial production to be commandeered by the military, so TWA, and others, would have to wait until the war's end in 1945. At that time, TWA quickly bought the military's Connies, 'C-69' models that Lockheed converted to L-049 specs, in addition to taking delivery of many of the first new planes Lockheed was building. In 1946, Air France received their order for four new L-049s, and placed them in trans-Atlantic service between New York and Paris. These four Connies were built as L-049-46 variants, with construction numbers 2072 through 2075, and were registered F-BAZA, F-BAZB, F-BAZC and F-BAZD. F-BAZA was completed in June, 1946 and delivered to Air France in time for her inaugural Trans-Atlantic flight on July 9, 1946. Her three sister ships arrived days apart sometime later.
These planes still featured the military's C-69-type 'eyebrow' windows and a dorsal 'astrodome'.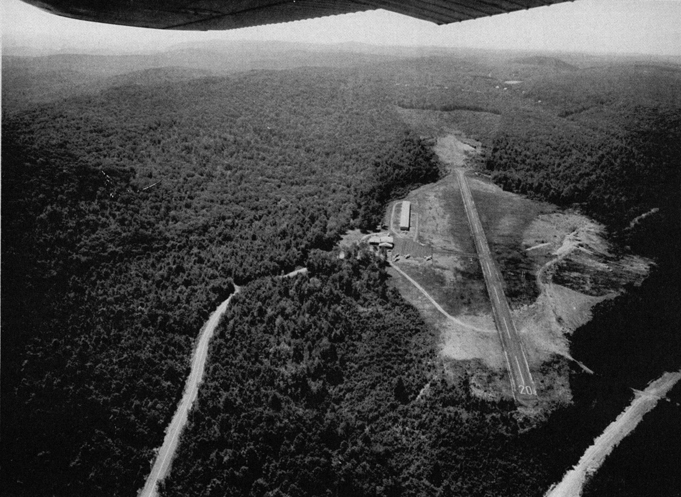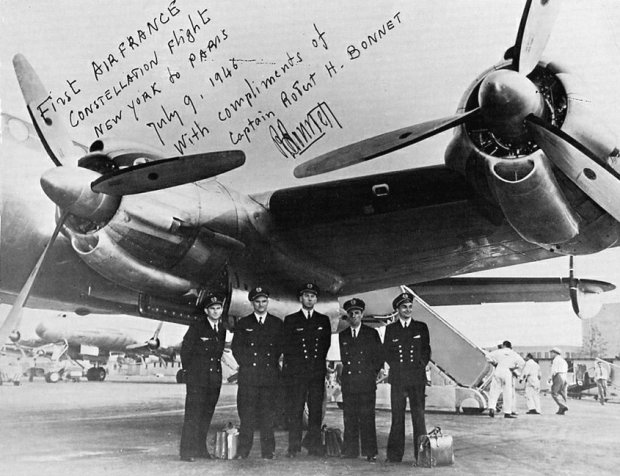 [Original Photo, Unknown] Here is the flight crew for F-BAZA's first Atlantic Ocean crossing.
Some sources state this plane was delivered in September, 1946, but this photo is signed by the Captain of the flight, clearly dating it in early July.
The plane's instrument panel shows it was constructed in June 1946. So the September suggestion is wrong.
[Original Photo, Lockheed] The altered photo above is actually of c/n 2073 F-BAZB... not a bad bit of editing, eh?
Now, it was an assumption of mine that F-BAZA was identical to F-BAZB when I altered the above photo.
Thankfully, I was proved correct by the next photo.
Original Photo, FRANCEPRESSE 42.147 F EUR] This photo, taken in July 1, 1947 at LaGuardia Airport in
New York City after her starboard main landing gear collapsed. The plane was less than a year old!
F-BAZA had a significant mishap in 1947 at LaGuardia Airport in New York City after the starboard main landing gear collapsed.
Note that, in the photo above, all three prop blades on each starboard engine have their tips bent, and the plane is mostly off the pavement, in the grass and the forward gear has dug a trench. I would guess it was taxing under power when perhaps a hydraulic failure caused the gear to unlock and retract under the plane's weight. The pilot got this far off the taxiway before the wing contacted the ground. The engines were likely stopped very quickly as the wing was dropping as damage to the props is rather minimal. The outer starboard #4 engine is covered in foam but appears minimally damaged. Perhaps it was coughing up a lot of smoke, and foam was applied as a precaution.
Again...these are all my assumptions based on the one photo.
Thankfully, damage was mild enough that she was not 'written off' (scrapped) and she was repaired and returned to service.
She came awful close to having one very short life! Also note that the plane is in service for Air France and has its astrodome and skylight windows prominently visible. Nice to know this plane definitely did have them when new and while in service, early on. A postcard exists from the era featuring a painting that shows F-BAZB wearing slightly refined livery. It gained a white top fuselage, lost the rear stabilizer flourishes and the logos on the engine cowlings, and the extra top glass pieces are gone. My personal opinion is that the artist based this painting off of first-hand viewing of the actual plane or photos of it. Thus, it seems likely that F-BAZA would have received the same changes. So it is likely safe to assume that Air France chose to have the top cockpit glass and astrodome removed and the holes covered over. This theory is bolstered by the fact that later Air France Connies (L749 models) did not get the extra cockpit roof glass... but they did get the astrodome.
Air France upgraded by 1950 and sold the four planes to TWA, which christened c/n 2072 F-BAZA as 'The Star of the Azores' with her new US registration number being N9412H. TWA returned the planes to Lockheed for preparation to TWA standards. This included the addition of several windows on the fuselage and additional seating installations. TWA then had them painted in their red and white livery and flew these four planes through 1959 before selling them off.
[Photo: Unknown] This photo is represented elsewhere online as being N9412H, but I can't personally
confirm this as the photo is too grainy to determine the tail's registry number..
N9412H spent the 1960s going from one small airline (and airliner brokerage) to the next, each having her for a relatively short time. In 1962, she flew for 'World Wide Airlines', then for 'Royal Air Burundi' in early 1963. By this time, regulations required all airliners to have weather radar installed. Photos of this plane in 1962, and after, show it sporting its longer, black, radar-equipped nose.
[Photo: J. Roger Bentley] This photo is represented elsewhere online as being taken in Jun 1966,
but is more likely from early 1963, as reports indicate the plane was with other airlines throughout 1966.
From 1963 to 1965, though ownership changed several times, its lessee remained 'Edde Airlines'.
[Photo: Peter M. Bowers] This shot is likely from sometime in mid to late 1963.


[Photo: Unknown] I have it on good authority that this is a shot of passengers
(possibly a Moose Lodge group) under one of Edde's two Constellations.
Chances are 50/50 it is or isn't N9412H but my guess it is NOT. Note the wider stripe and thicker lettering than the prior photo.
For 1966-67, she was stored in the southwestern US. Then, in 1968, she was purchased by 'Mineral County Airlines' and initially flew under the 'Hawthorne Nevada Airlines' name, which was renamed 'Air Nevada' in 1969 before the airline folded that same September. It is believed she was re-christened 'Champagne Lady' during this time.
[Photo: Jack Bol] This shot was likely taken in the early 1970s while stored in Arizona.
Meanwhile, between 1964 and 1970, her three Air France sister ships had each been scrapped-
N9412H is the only surviving Air France L-049. From late 1969 through 1976, she was shuttled between
various storage facilities in California and Arizona, awaiting a new buyer and a return to regular flight.
In 1976, Frank Lembo Enterprises (owners of Grenwood Lake Airport in West Milford, New Jersey) bought her for $45,000
for use as a restaurant & lounge project.
The plane was serviced for her final flight and made the journey in 1977, landing on GLA's short, 2700-foot runway. She was placed against the airport's
main building and anchored in place. To date, she has never flown again.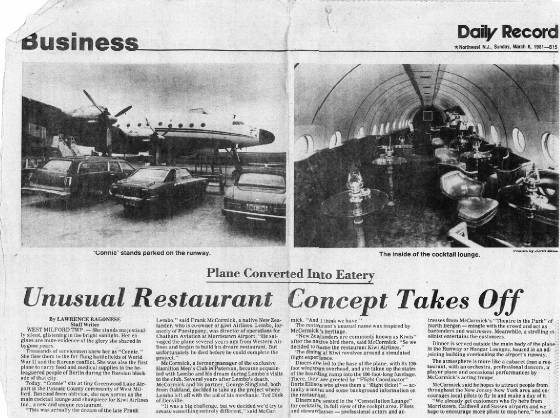 [Photo: Daniel L. Berek] Greenwood Lake Airport, West Milford, New Jersey, 1992
By 1981, the interior changes had been completed, a stairway built and large doorways cut into the fuselage, port-front and
starboard-rear. The restaurant opened... and quickly closed due to a lack of customers. The plane then sat, unused and neglected until 1996 or so, when it was used
by local pilots as their shop. But hauling parts up and down those stairs was likely too inconvenient and once again,
the plane was closed up and treated as a storage shed.
Rumor has it that around the time she served as a shop, someone decided to see if they could get the
long-idle engines to fire up. While three of them seemed unwilling, #2 was said to have started and run quite well.
In 2000, the State of New Jersey purchased the airport...and in the same deal, got the plane. Still, the plane sat unused.
But in 2005, a flight school began using the plane as its office, so changes were again made inside, and a large deck added
to the front, port side of the fuselage. The tarmac was also treated to a new chain-link fence surrounding the plane.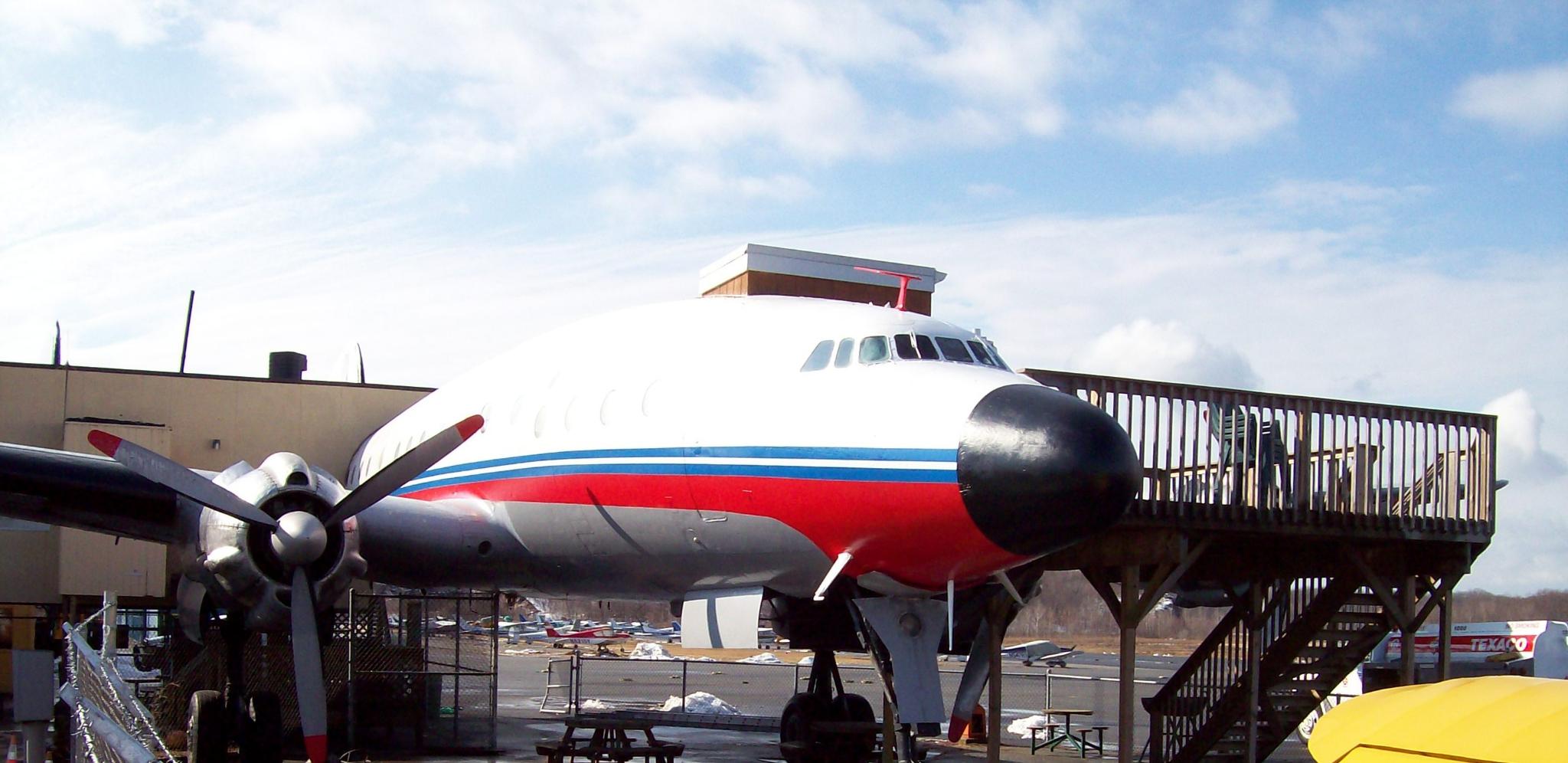 Winter 2010-2011 News Letter
Here are the major headlines from this season's news letter. Be sure to stop by the front desk to pick up your copy today!
New DigiWX AWOS System now at Greenwood Lake! Visit www.digiwx-4n1 for more information!
New Charts and Supplies are in! The latest charts expired on Nov. 18th so make sure your charts are up to date!
If you haven't noticed, the new Jet-A truck is here! Tell your turbo prob and helicopter buddies!
Is your plane due for annual, 100hr, or just need an oil change? Our maintenance shop can get whatever you need done. Call 973-728-1700 to schedule an appointment!
Snow removal is just around the corner. All tenants and their guest are asked to please park your car in the lots to the side and behind the building during snow removal and not by their planes. Thank you.
The banquet hall is a great place to have your parties! Look for it to be expanding in the winter months. Call 972-728-7721
2011 Greenwood Lake Air Shows. Thats right, plural. Look for a show coming in May and our WWII showcase sometime late August.
The pilot lounge is now located in the Connie. Enjoy couches, tv, and internet while waiting or planning a flight.
Greenwood Lake will now be carrying Phillips 66 fuel and will also be participating in their rewards program! Pamphlets with more information are available at the front desk.
6/8/10
Greenwood Lake Airport will have Jet A Fuel for sale beginning next week.
10/22/09
The grading project between the runway and taxiway is now complete. Just one more step towards the beautification of Greenwood Lake Airport.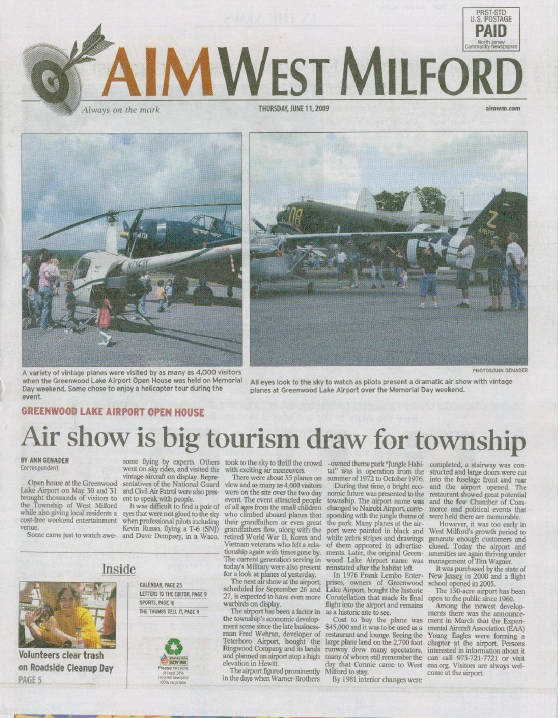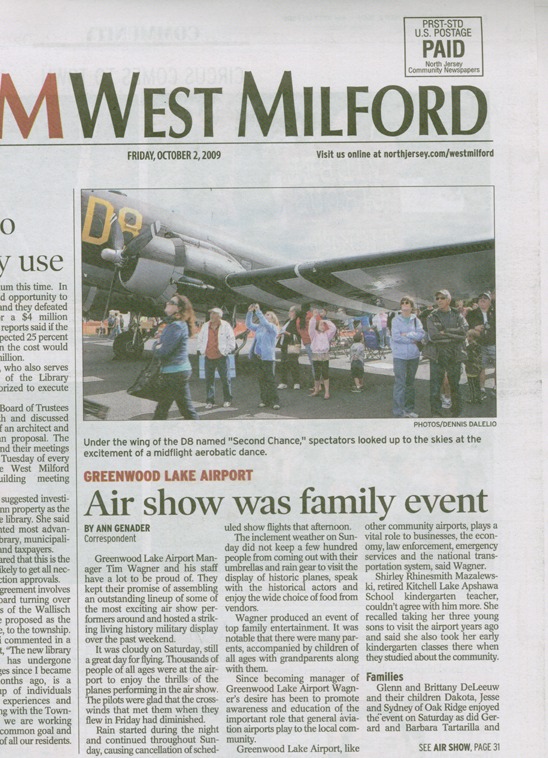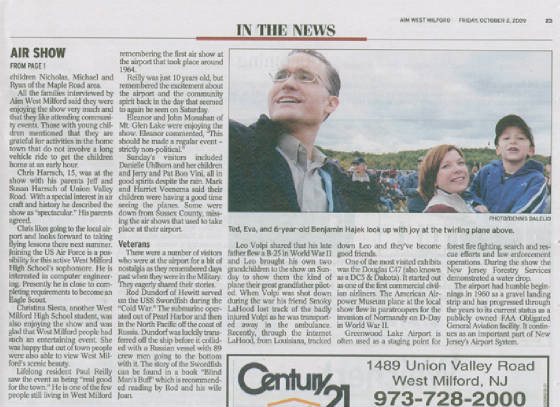 4/18/09
Greenwood Lake Airport hosted an FAA Seminar and an Aerobatic Practice box. Many pilots flew in and enjoyed the day watching other pilots display their skills and listening to the speakers.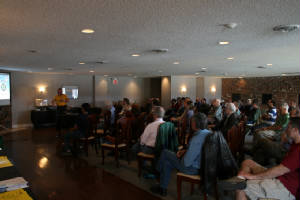 4/3/09
To take care of some of the standing water problems we are currently doing some drainage work. That should be finished up with the next few days. The fence project is also going to get underway again. After being put off for the Winter, the Spring weather is allowing us to finish it up. Expect to see that done within the next two weeks.

12/2/08
New Fence
A
s you may have noticed we started on our new fencing project. Working with the State we are able to re-fence the entire airport to help keep the wildlife out. The area underneath the Connie will be expanded to help make the airport more inviting to the general public. A patio area will be set up in the Spring so people can sit and watch the planes. The fencing project is expected to be completed within the next week!
Snow Loader
This winter we have a new beast of a snow loader to help keep the runway clear
The "Connie"
The Constellation recieved a new paint job to most of her exterior and her tail was reskinned. She is looking beautiful, be sure to check her out.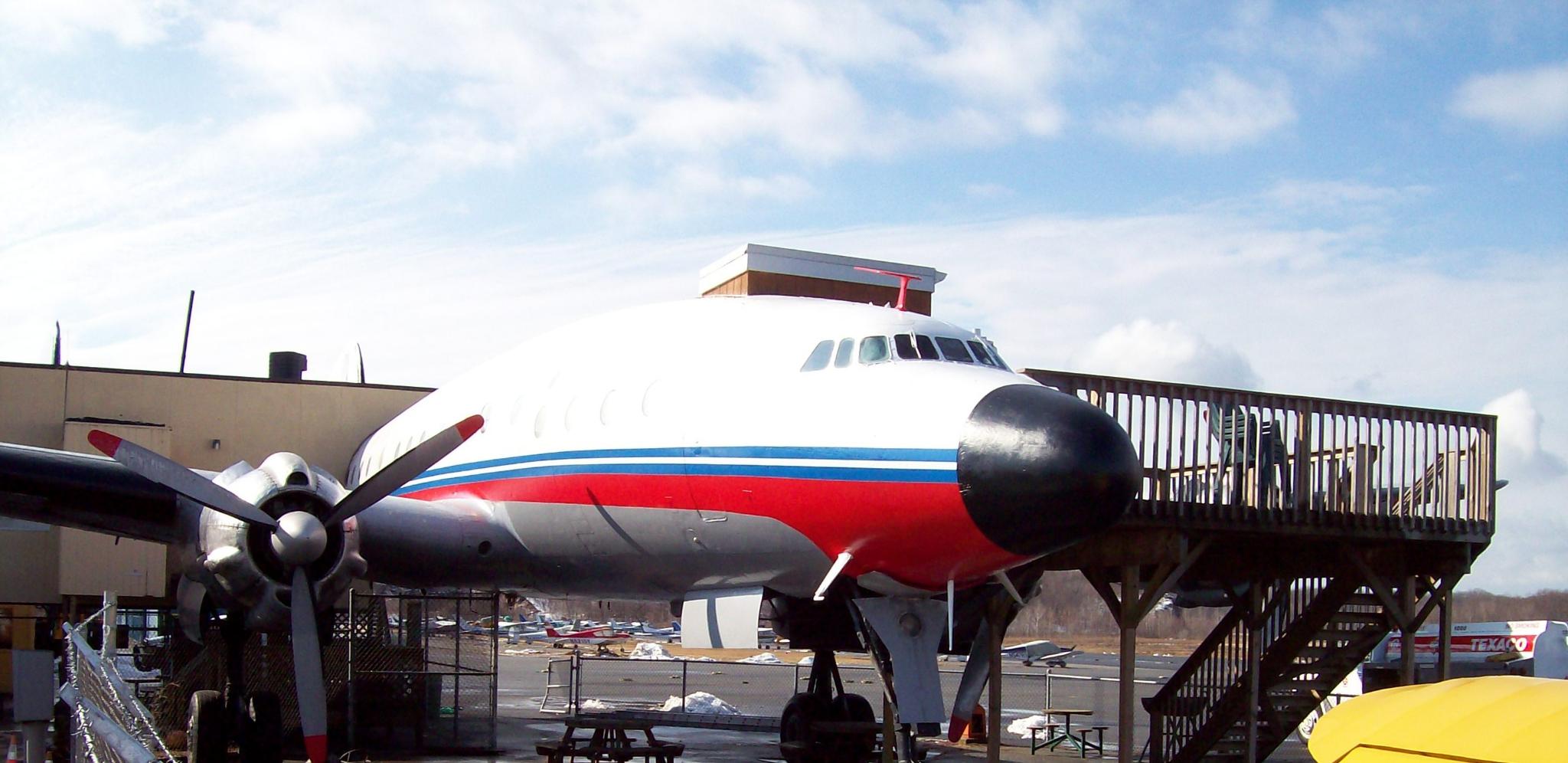 Local EMT's Learn About Air Rescue from West Milford Messenger 7/27/07

From Aim West Milford 5/20/2007
"Councilman Warden praised Tim Wagner, in charge of Greenwood Lake Airport for his "tremendous job" in bringing the airport back to the caliber it once was. He said runways have been paved and the banquet hall (once a highlight of West Milford's large group social scene) is ready and the diner is operating. "It's a great place for Cub Scouts and Kids to go to watch the planes." He said dozens of jobs are being provided to local people. Warden Praised wagner for his "considerable" work to bring the Greenwood Lake airport to the prestigious place that longtime residents remember it being. He noted that not many such small airports still exist in New Jersey.
Girl Scout troop 679
from Pines Lake School in Wayne, NJ visited Greenwood
Lake Airport on Oct 20, 2007
as part of a program to qualify for two aviation badges. Hosted by Bob Leszkowicz, a multi-engine, commercial pilot who flies out of Greenwood Lake, the girls were taught some basic aviation principles about airport operations, navigation and the basics of flight. Every girl was taken on a cockpit tour of a twin engine Duchess based at the airport and saw first hand the controls and instruments that pilots use to fly a plane. Also included in their visit was a short presentation on flying in the 50's and 60's highlighted by a tour of the Lockheed Constellation based at Greenwood Lake Airport. Two girls have already
expressed their desire to come back to the airport to learn more about aviation with the hope of piloting a plane themselves some day.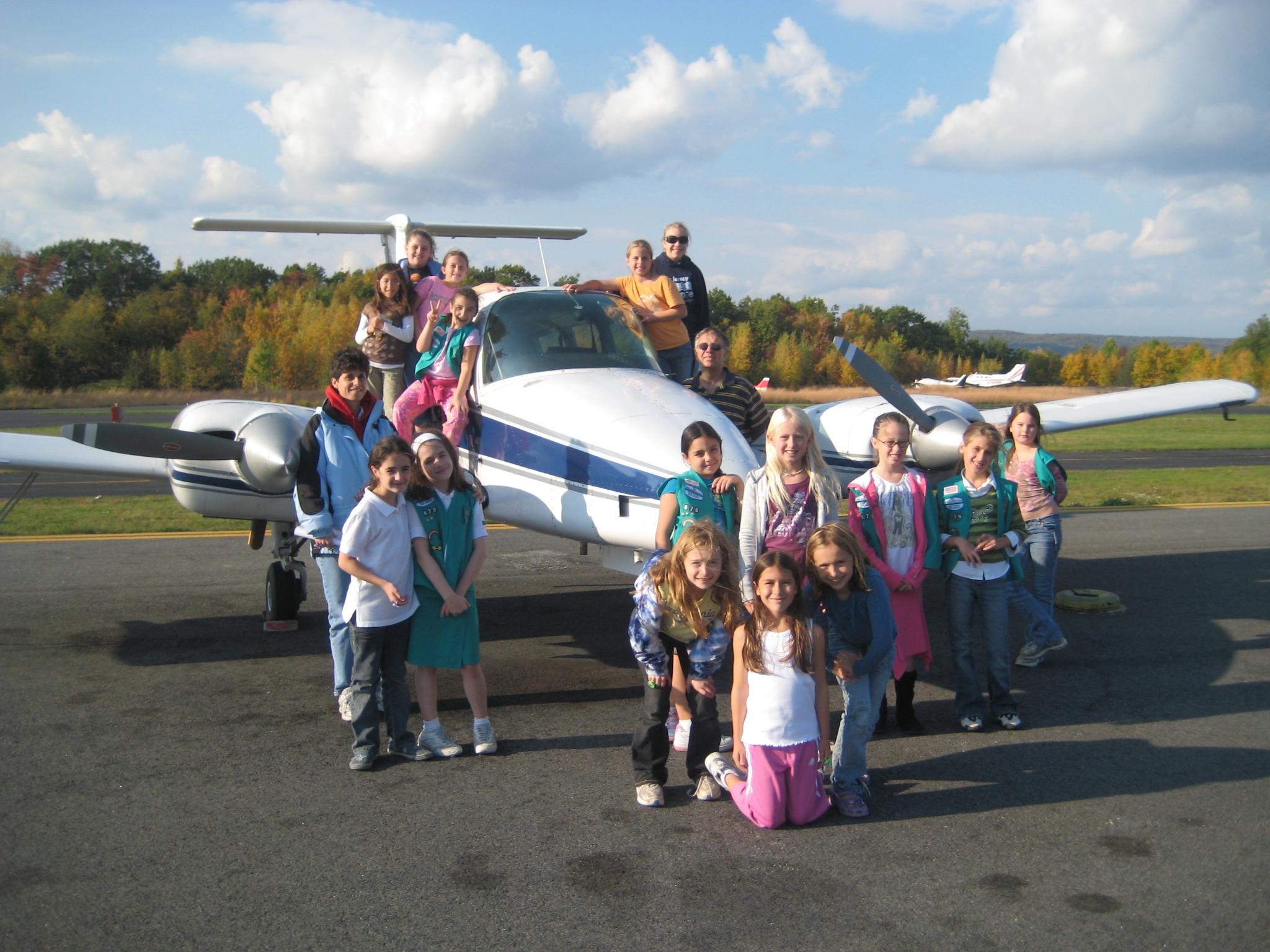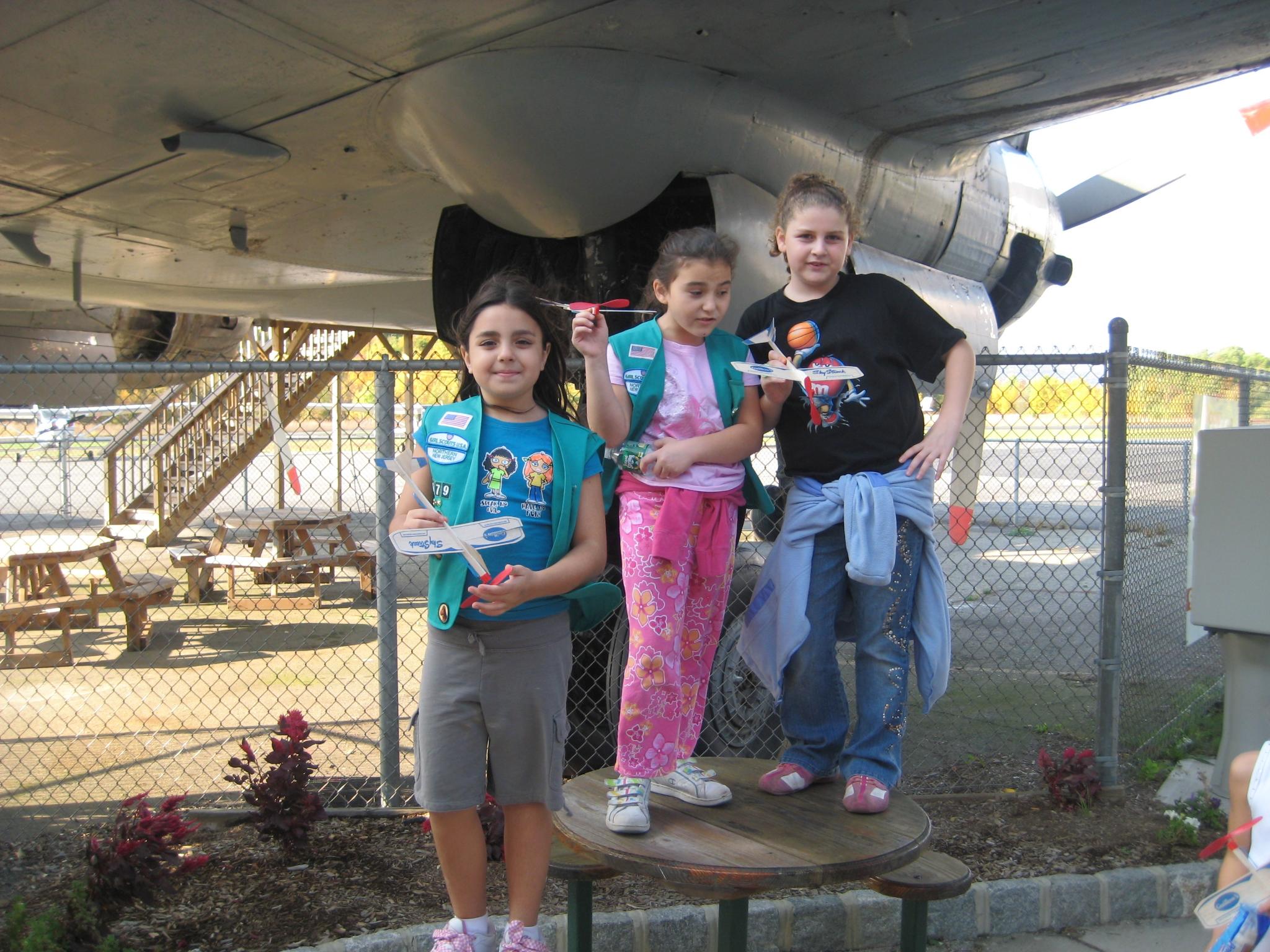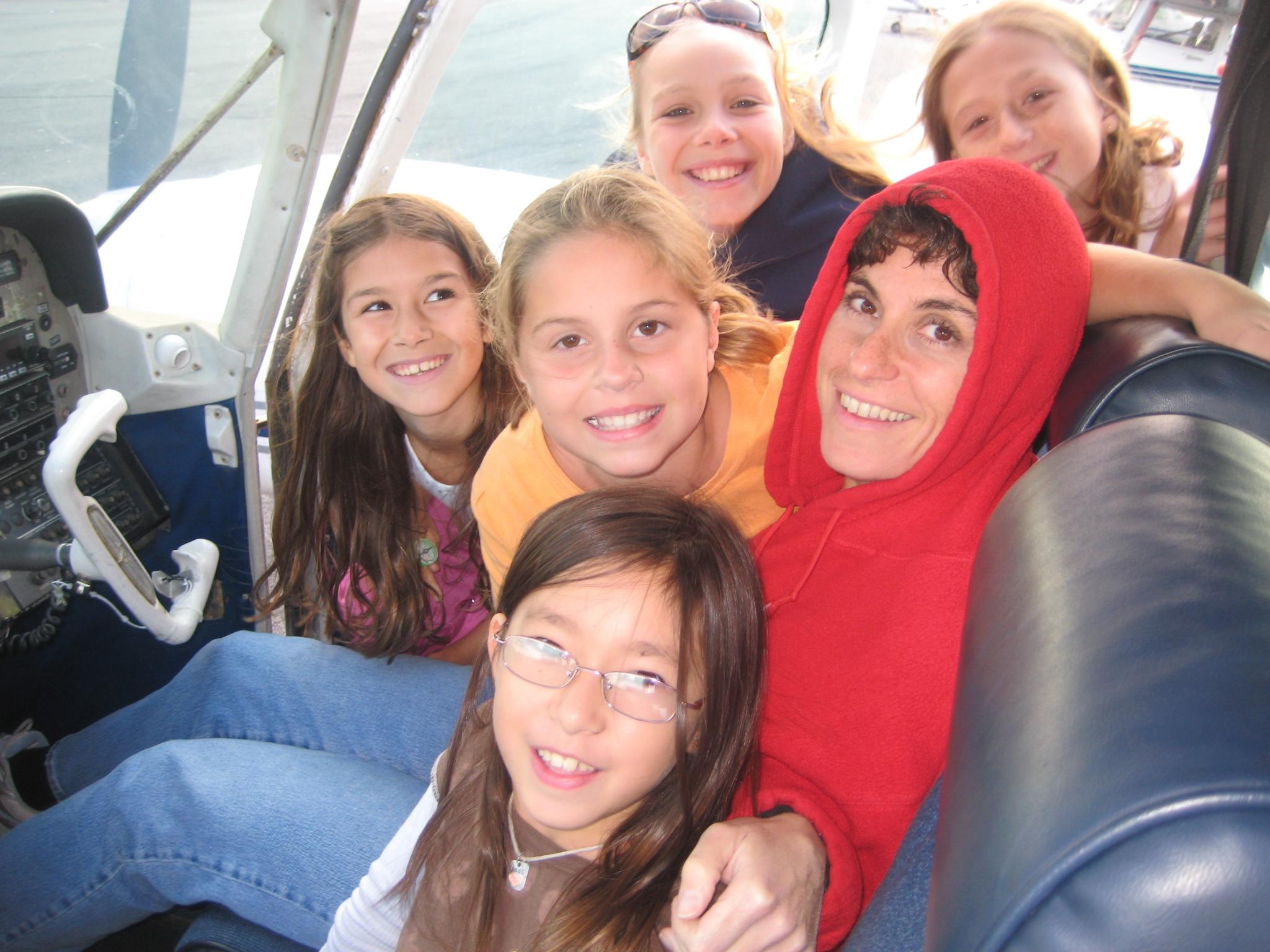 In the Kitchen with Tim Wagner February 15th 2008 West Milford Messenger